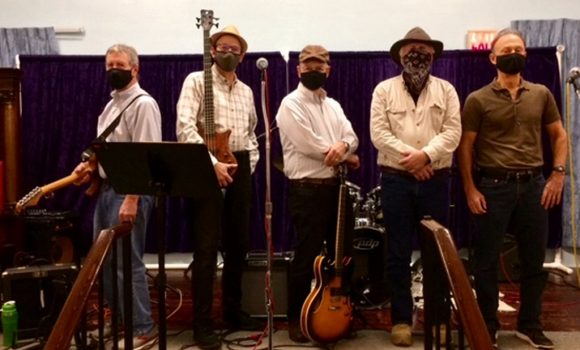 Six Feet Apart
Fall 2020
This was our first band to deal with the challenges of the COVID-19 pandemic which included wearing face masks while singing, keeping more than the usual spacing, and a 2-week hiatus in the middle of the term. Despite these obstacles, the guys did a great job and had a lot of fun.
This band will go down in history as the first Bandmakers project to do a live stream! It went well and thanks to their flexibility, we will be doing more in the future.
Band Members
Frank Hunt – Acoustic guitar, Vocals
Dave Parsons – Drums
Bruce Rupprecht – Bass, Backing vocals
Chris Toole – Acoustic & electric guitars, Vocals
Gary Winternheimer – Electric guitar, Vocals
Here's Their Show!